Welcome to New Carlisle, Indiana!


New Carlisle Town Fall Clean Up Day

Time - 8:00 a.m. to 2:00 p.m. or until full
Date - Saturday September 23, 2017
Place - 341 W. Michigan St. (old sewer plant west of viaduct)
Who's Eligible to use this event: New Carlisle Town Residents Only
What is needed to participate: Residents need to sign up at the New Carlisle Clerk's Office at 124 E. Michigan St. between 8 am to 4:30 pm Monday through Friday to get a  ticket. The ticket will need to be presented that day to use the dumpster.
The following are the guidelines for using the dumpster:
Household doors and windows, furniture, mattress/box springs, carpeting, toys, household furnishings, miscellaneous rubbish/junk, and packaging will be accepted. Glass should be in cardboard box or other sturdy container and taped shut.

The following items may NOT be placed in the dumpsters:
Appliances
Electronics including, but not limited to, computers, printers, monitors, and accessories
Televisions
Auto Parts or engines
Tires
Oil, gasoline, or antifreeze
Batteries
Florescent light bulbs
Chemicals, paints, solvents, pesticides, herbicides or other household hazardous waste
Concrete
Iron or steel or cast iron bathtubs
Stumps
Medical waste
Town Residents are allowed one load per home address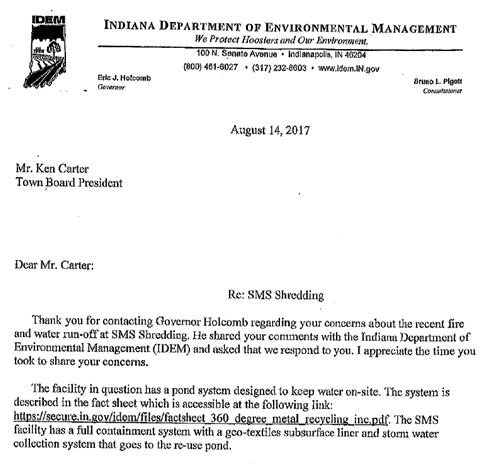 Click here to continue reading IDEM's response to Town Council President Carter regarding the SMS Shredding Plant.