Welcome to New Carlisle, Indiana!

Project Update: 


Viaduct:   
Curbs were poured on the west side on Saturday and sub-base was fine graded.  Forms for pavement of the westbound lane were started on Sunday.   The westbound lane is being poured today and they are starting the under drains on the east side.    Those will be finished tomorrow and sub-base placed.   Curbs will be placed Wednesday on the east side and Thursday they will fine grade and get the eastbound lane ready to pour.  On Friday, they will pour the eastbound lane and backfill curbs on the west side.  Saturday they hope to patch some of the existing pavement edge and curb that was left in place under the viaduct.
 
On Monday the 24th they will check strength to see if the viaduct is ready to open for traffic on Tuesday the 25th  or on Wednesday the 26th.
Town portion of the project:
 Subcontractors are scheduled to start installing the traffic "loops" on Bray Street tomorrow.


Layout for pavement markings will be starting tomorrow and hand crews will have parking areas downtown striped by the end of this week.  Long lane lines will be grooved this week as well, with striping to follow.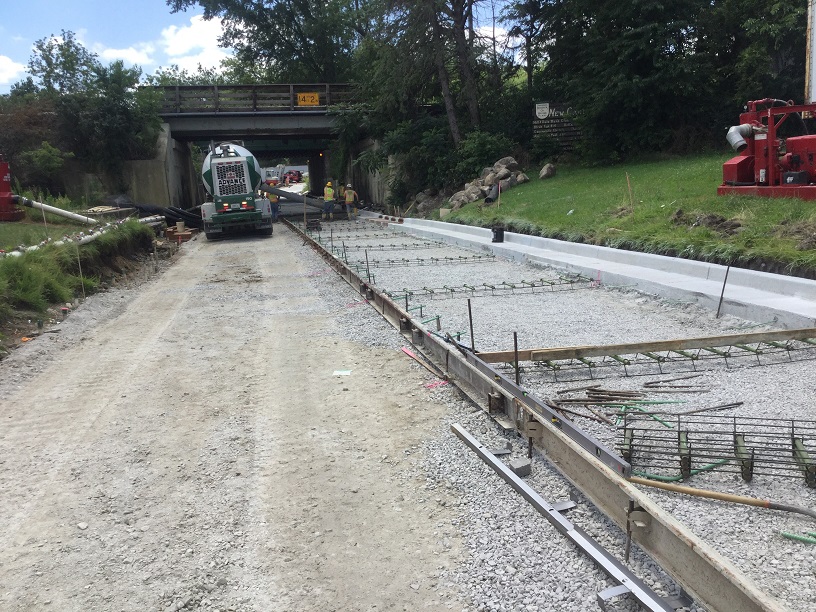 Donnelly Helps Get New Carlisle Bridge Project Back on Track


Senator helped coordinate efforts with key stakeholders to address delayed construction restricting access and harming businesses in downtown New Carlisle


Wednesday, June 28, 2017
Washington, D.C.
—U.S. Senator Joe Donnelly welcomed news that the bridge project on U.S. 20 in New Carlisle has resumed after he worked to help get the project back on track. The stalled construction project began in early May and was projected to take no more than 30 days, but delays—due to safety, structural, and permitting issues—caused restricted access to downtown New Carlisle, negatively impacting downtown businesses and public safety.
After hearing from a number of concerned residents, local elected officials, first responders, and business owners in New Carlisle, Donnelly requested that Norfolk Southern resolve any issues delaying the continuation of work on the Route U.S. 20 bridge in a timely and safe manner. Donnelly then coordinated efforts 

on Friday

 with Norfolk Southern, INDOT, the New Carlisle Town Council President, and Governor Holcomb's office to address the water, structural, and permitting issues delaying construction and helped create a timeline for getting the construction project moving toward completion.
Donnelly received confirmation that construction has resumed and will remain engaged to ensure the timely and safe completion of the project.
Donnelly said,
 "I am the hired help, and I am pleased I could bring together Norfolk Southern and the other stakeholders to get this bridge construction project in New Carlisle back on track. I will remain engaged with Norfolk Southern, INDOT, the New Carlisle Town Council President, and Governor Holcomb to ensure this project gets completed in a timely and safe fashion. It is important to get this project done to ensure the safety of New Carlisle's residents and resume the normal flow of traffic that helps downtown businesses succeed."
Ken Carter, New Carlisle Town Council President, said,
 "I am ecstatic that construction on the bridge project is resuming and look forward to the bridge being completed, so that traffic on U.S. 20 will be able to flow normally again in and out of downtown New Carlisle. We are thankful for Senator Donnelly's efforts to help us get this stalled construction project back on track. We are hopeful that the project will be completed in time for Hometown Days at the end of July."  
In an effort to reach all consumers, the 2017 Consumer Confidence Report (Water Quality Report) can be viewed here.
Information for Summer Sprinkling Rates can be found here.